Radnor-Wayne Little League squad celebrates first District 27 title in 33 years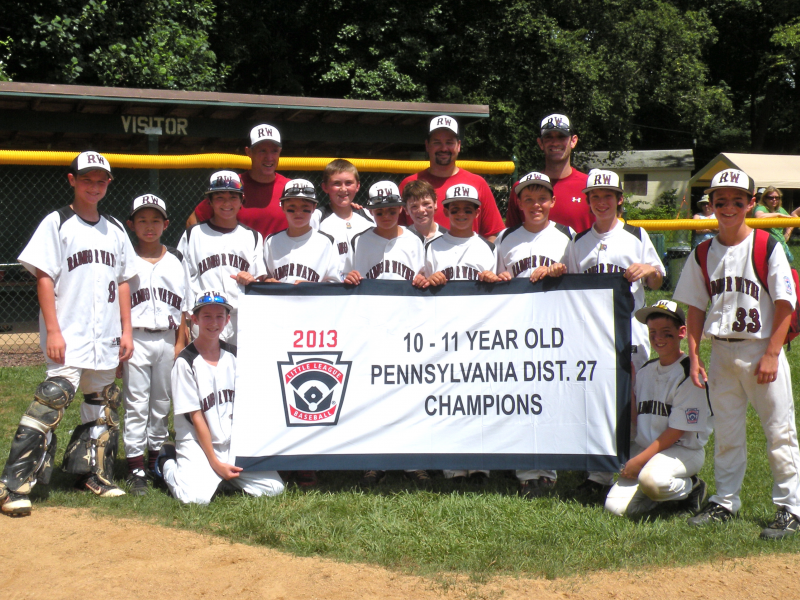 The champion Radnor Wayne squad included, from left: (back row) coaches Mike McCall, Tony Lohmeier and Dan DiLella, (next row down), Chris Clark, Scott Burke, (next row down) Bobby Hydrisko, Ethan Lee, Brendan Surbeck, Gavin McCall, John Austen, Ryan Gaffney, Jackson Birtwistle, Owen Beisty, Sam DiLella, (kneeling) Jack Dooley and Mitchell Lohmeier. (Carole Lohmeier photo)
The Radnor-Wayne 10-11 year-old Little League International tournament team captured the Pennsylvania District 27 title, defeating Upper Providence 3-0 in the championship final for its fifth straight victory.

Sam DiLella earned the win for Radnor-Wayne by pitching a complete game shutout. DiLella allowed only two hits, while recording six strikeouts.

Radnor put early pressure on Upper Providence pitcher Trevor Manion with singles by Brendan Surbeck and DiLella in the first inning, but Manion was able to work himself out of the jam. Radnor kept the bats going in the second inning, and eventually broke through to score all three of their runs. Bobby Hydrisko and Chris Clark started the inning off with a single and a walk. Gavin McCall then ripped a single down the first base line to score Hydrisko, and Mitchell Lohmeier followed with a sacrifice fly to score Ethan Lee (pinch-running for Clark). Surbeck completed the scoring by driving-in McCall with a single. John Austen kept the inning alive with another single, but Radnor was unable to push another run across.

Manion settled down after that, only giving up one more hit the rest of the way and finishing the game with seven strikeouts. However, Upper Providence was unable to mount any serious threats against DiLella, who didn't allow a runner to reach second base until the final inning.

The team moves on to compete at sectionals starting July 18 in Levittown. Radnor-Wayne will take on Horsham in the first round of the double-elimination tournament, while Newtown-Edgemont takes on Morrisville. The winner of PA Section 8 will advance to the state tourney July 26 to compete against seven other teams for the state title.

Radnor's run to the district title included a mix of strong performances (12-0 over Devon-Strafford, 10-4 over Lower Perkiomen), and nail-biting come-from-behind victories (11-10 over Great Valley, 14-12 over Exton).

The team showed amazing resolve in overcoming a four-run deficit in the sixth inning against Great Valley, and an 11-run deficit against Exton. The team received key contributions from all 13 players over the course of the tournament, whether it was clutch hits by Scott Burke, Jack Dooley, and Ryan Gaffney to keep a rally alive, outstanding fielding by Jackson Birtwistle, or steady pitching by Owen Beisty in earning two wins.